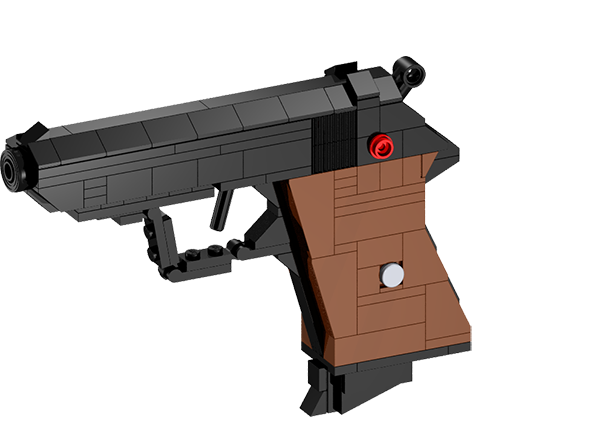 The PPK is a blowback-operated semi-automatic double-action pistol with a standard exposed hammer and thin, single-column magazine.
It was a smaller version of the original PP, featuring a shorter grip, barrel and reduced magazine capacity. The smaller size made the PPK more concealable than the original and was thus better-suited to undercover police and security work. "PPK" is an abbreviation for Polizeipistole Kriminalmodell (Police Pistol Detective Model), "kriminal" referring to the police detective (criminal) division.
The most famous PPK owner was the fictional superspy James Bond, who used the weapon in every movie and in every novel from Dr. No onward, replacing the original Beretta from earlier books.



BrickGun designers have managed to pack a significant number of features into the PPK's small form factor.
A working hammer/trigger mechanism, similar to our other models, is in place. Pull back the hammer and the gun "cocks". Then pull the trigger and the hammer falls, "firing" the gun with an audible "click". On the back side is a faux ejector port, identical to the real gun.
We have also managed to work in our second functional magazine. Slightly smaller in scale than a real one, but it slides and locks firmly into place, easily removed with a tug.
Just like every BrickGun model, it is 100% life-sized. Height and length are 1:1 scale and this is our first "3-stud-wide" model, which also makes the width identical to the real thing. Since the width is so limited on the real weapon, it wasn't possible to include a working/locking slide, but the working features we did include were an accomplishment unto themselves so it has quickly become one of our favorite models.
It incorporates the iconic extended magazine/fingergrip and rounded barrel tip (a detail we're particularly proud of succeeding at) along with the unique shape that is recognizable in the hands of spies for decades.
For years our fans have asked for the "007 pistol" and now we've delivered.


BrickGun kits include everything you need to build your own model. We supply all the pieces necessary, along with a link to download easy-to-follow instructions which walk you through every step of the build process. The models are simple, yet intricately detailed and can typically be put together in under an hour. All mechanics are actuated by rubber bands supplied with the kit.
BrickGun also offers .pdf versions of our instruction pages. If you already have the pieces necessary to build the model you can purchase a download of the instructions and view them digitally or print them using Adobe's free Acrobat Reader.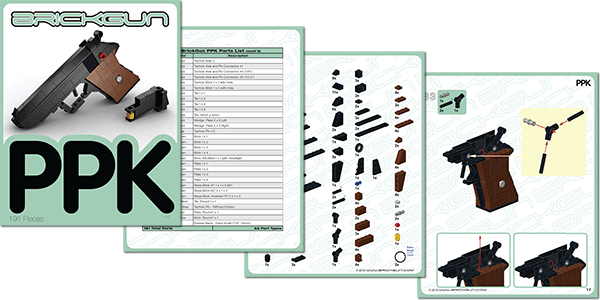 Thousands of BrickGun models have been sold around the world for over a decade with 100% satisfaction. All transactions are handled securely via paypal and units typically arrive within 2 weeks of purchase.
We deliver a quality product that we love to make and sell. That's what makes them the coolest plastic building brick weapons in the world!
If you have any questions, please email The BrickGun Team.
ATTENTION: BrickGun models DO NOT FIRE PROJECTILES and are not actual working weapons, they are plastic building brick models meant only to display the form and mechanical functions of real guns.
BrickGun Rubber Band kits DO FIRE RUBBER BANDS and caution must be exercised at all times while building, viewing and playing with the model. Never point BrickGun Rubber Band models at yourself, other people or pets. Extra care should be exercised when loading rubber bands into the models.
By building (either partially or completely) any BrickGun model (regular or Rubber Band) you release BrickGun and all of its employees from liability for any injury or damages done to persons or property due to its use or misuse.

LEGOŽ is a trademark of the LEGO Group of companies which does not sponsor, authorize or endorse this site