The Parabellum-Pistole (Pistol Parabellum), popularly known as the "Luger", is a toggle-locked recoil-operated semi-automatic pistol. Designed in 1898, it was one of the first semi-automatic pistols, which uses a jointed arm to lock, as opposed to the slide actions of almost every other semi-automatic pistol.
The Luger is well known from its use by Germans during World War I and World War II, along with the interwar Weimar Republic and the post war East German Volkspolizei. Although the Luger pistol was first introduced for use with a 7.65×21 mm Parabellum round, it is notable for being the pistol for which the 9×19 mm Parabellum round (also known as the 9 mm Luger) was developed.
Although outdated, the Luger is still sought after by collectors both for its sleek design and accuracy. Thousands were taken home by returning Allied soldiers during both wars, and are still in circulation today.

The BrickGun Luger P08 continues our decade-long tradition of creating the most realistic, full-scale replicas of handguns modelled with plastic building bricks. Like all of our models, it matches the dimensions of the real weapon almost identically and sports realistic mechanical features. It is our first 3-stud-wide model, made possible due to the unique cocking mechanism which does require a slide, so the width of this design is closer to reality than any of our other handguns.
The coolest feature of the model is the cocking arm and the fact that it not only moves back and up like the real thing, but it also works as it does on the actual gun, readying an internal hammer, which falls with an audible "click" when the trigger is pulled. We're delighted with our solution to replicate this real-world design which maintaining the proper scale.
The Luger is also one of only 2 of our handgun models which also incorporates a functioning safety. Once the gun is in a cocked state, flipping the safety engages an internal block which prevents the trigger from being pulled.
The Luger is one of our most-requested models, and now you can have one of your own!

BrickGun kits include everything you need to build your own model. We supply all the pieces necessary, along with a link to download easy-to-follow instructions which walk you through every step of the build process. The models are simple, yet intricately detailed and can typically be put together in under an hour. All mechanics are actuated by rubber bands supplied with the kit.
BrickGun also offers .pdf versions of our instruction pages. If you already have the pieces necessary to build the model you can purchase a download of the instructions and view them digitally or print them using Adobe's free Acrobat Reader.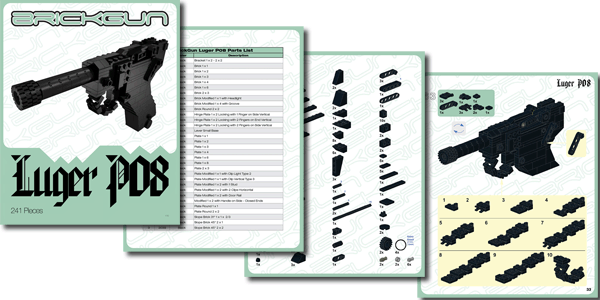 Thousands of BrickGun models have been sold around the world for over a decade with 100% satisfaction. All transactions are handled securely via paypal and units typically arrive within 2 weeks of purchase.
We deliver a quality product that we love to make and sell. That's what makes them the coolest plastic building brick weapons in the world!
If you have any questions, please email The BrickGun Team.
ATTENTION: BrickGun models DO NOT FIRE PROJECTILES and are not actual working weapons, they are plastic building brick models meant only to display the form and mechanical functions of real guns.
BrickGun Rubber Band kits DO FIRE RUBBER BANDS and caution must be exercised at all times while building, viewing and playing with the model. Never point BrickGun Rubber Band models at yourself, other people or pets. Extra care should be exercised when loading rubber bands into the models.
By building (either partially or completely) any BrickGun model (regular or Rubber Band) you release BrickGun and all of its employees from liability for any injury or damages done to persons or property due to its use or misuse.

LEGOŽ is a trademark of the LEGO Group of companies which does not sponsor, authorize or endorse this site