The IMI Desert Eagle .50 caliber handgun is considered by many to be the ultimate weapon. With a bullet large enough to stop a truck, it's hard to deny that a hand cannon like this makes a statement. A gun this big is more like a rifle, and not just because of its huge dimensions; the technology on the inside resembles them as well. Most semi-automatic pistols use short recoil or blow-back systems but the D.E. uses a gas-operated mechanism more commonly found in assault rifles. The rotating bolt and locking mechanism also bear a strong resemblance to those in M16 rifles.
This is more than a gun, it's a wave of destruction. Shooting one is less like firing a bullet and more like launching an artillery shell, which is exactly why it has been banned in many parts of the world.

Now The BrickGun Team brings you the BrickGun Desert Eagle. A full-sized model that is the same dimensions as a real Desert Eagle and is as realistic as you can get with plastic building bricks.
The model is more than just looks, it also has many mechanical functions that mirror the real thing. The hammer can be cocked and when the trigger is pulled the hammer falls with a "click". The slide can be pulled back just like a real pistol when a round is being chambered. Release the slide and the hammer is automatically cocked and ready to "shoot". While the slide is back the lock lever can be flipped up to hold the breech open, just like the a Desert Eagle waiting for another magazine to be inserted. Flip the lock lever down and the slide slams shut, hammer cocked and ready to "shoot" again. The BrickGun Desert Eagle also features a working safety. Flip it down and the trigger/hammer won't click, even if the hammer is cocked.

The BrickGun Desert Eagle is huge, just like the real thing. It's our biggest handgun model yet and is awesome to wield.


BrickGun kits include everything you need to build your own model. We supply all the pieces necessary, along with a link to download easy-to-follow instructions which walk you through every step of the build process. The models are simple, yet intricately detailed and can typically be put together in under an hour. All mechanics are actuated by rubber bands supplied with the kit.
BrickGun also offers .pdf versions of our instruction pages. If you already have the pieces necessary to build the model you can purchase a download of the instructions and view them digitally or print them using Adobe's free Acrobat Reader.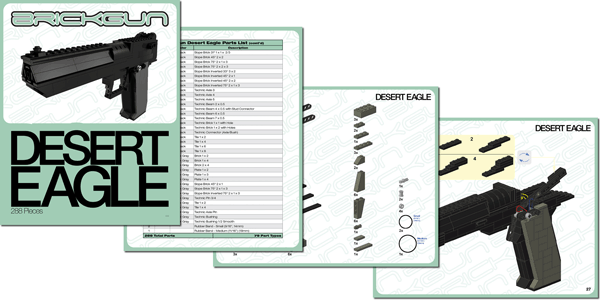 Thousands of BrickGun models have been sold around the world for over a decade with 100% satisfaction. All transactions are handled securely via paypal and units typically arrive within 2 weeks of purchase.
We deliver a quality product that we love to make and sell. That's what makes them the coolest plastic building brick weapons in the world!
If you have any questions, please email The BrickGun Team.
ATTENTION: BrickGun models DO NOT FIRE PROJECTILES and are not actual working weapons, they are plastic building brick models meant only to display the form and mechanical functions of real guns.
BrickGun Rubber Band kits DO FIRE RUBBER BANDS and caution must be exercised at all times while building, viewing and playing with the model. Never point BrickGun Rubber Band models at yourself, other people or pets. Extra care should be exercised when loading rubber bands into the models.
By building (either partially or completely) any BrickGun model (regular or Rubber Band) you release BrickGun and all of its employees from liability for any injury or damages done to persons or property due to its use or misuse.

LEGOŽ is a trademark of the LEGO Group of companies which does not sponsor, authorize or endorse this site