First introduced in 1966, the MP5 quickly became the standard for submachine guns. Over 40 years later it is still considered the benchmark by which new machine pistols are judged.
The MP5 fires from a closed bolt, utilizing what is known as a roller-delayed blowback mechanism, which increases its accuracy and reliability. The trigger assembly is a replaceable modular component and may include fully-automatic, 3- and 2-round burst, semi-automatic, and safe positions in various combinations. Originally the MP5 used the 9mm Parabellum round, but later versions incorporated 10mm and .40 caliber ammunition.
The MP5's accuracy, reliability, wide range of accessories and variations have made it the submachine gun of choice for military and law enforcement agencies worldwide. In tactical assault combat it is, quite simply, the gun to have.

The BrickGun MP5 continues our tradition of building the most realistic plastic building brick weapons possible. Our original MP5 has been updated with new features and added accuracy. The model now matches a real MP5 exactly in size and detail, both with the stock extended and collapsed.
We've added a functioning cocking handle, safety and improved the stock design for both accuracy and strength. The entire model has been reworked from the core to improve the look and to increase sturdiness so that it can stand up better to actual play. We listened to your feedback and added everything you asked for. We wanted our final version of the model to be the ultimate plastic building brick MP5 and we believe we've succeeded!
The cocking handle can be pulled back and it snaps forward, identical to an actual MP5. The trigger can be squeezed and the 3-position switch can be set to simulate auto-fire, semi-auto-fire or act as a working safety. The magazine can be removed using the release lever that mimics the mechanics of a real MP5 — press the lever and the clip slides out, slide the clip back into the chamber and it locks in place. The stock can be extended by pressing the stock release lever which, again, functions exactly like the real thing. Pull the stock back and it locks into place. Press the release lever and the stock can be collapsed where it once again locks into position.
The BrickGun MP5 is insanely fun and it's incredible how realistic our designers managed to make it. From every angle it looks fantastic and one can't help but to jump up on the sofa and pretend to spray the living room with a shower of bullets when it's in hand.

Instruction downloads are available and are also included on the latest BrickGun CD.


Comparison of the BrickGun MP5 with stock collapsed and extended

BrickGun kits include everything you need to build your own model. We supply all the pieces necessary, along with a link to download easy-to-follow instructions which walk you through every step of the build process. The models are simple, yet intricately detailed and can typically be put together in under an hour. All mechanics are actuated by rubber bands supplied with the kit.
BrickGun also offers .pdf versions of our instruction pages. If you already have the pieces necessary to build the model you can purchase a download of the instructions and view them digitally or print them using Adobe's free Acrobat Reader.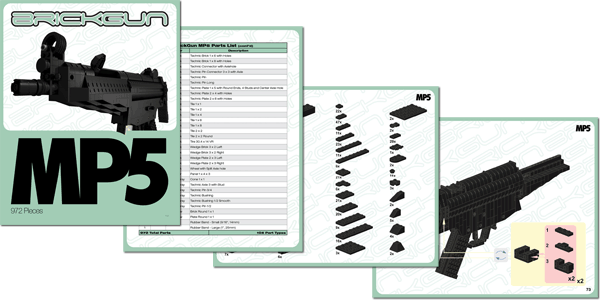 Thousands of BrickGun models have been sold around the world for over a decade with 100% satisfaction. All transactions are handled securely via paypal and units typically arrive within 2 weeks of purchase.
We deliver a quality product that we love to make and sell. That's what makes them the coolest plastic building brick weapons in the world!
If you have any questions, please email The BrickGun Team.
ATTENTION: BrickGun models DO NOT FIRE PROJECTILES and are not actual working weapons, they are plastic building brick models meant only to display the form and mechanical functions of real guns.
BrickGun Rubber Band kits DO FIRE RUBBER BANDS and caution must be exercised at all times while building, viewing and playing with the model. Never point BrickGun Rubber Band models at yourself, other people or pets. Extra care should be exercised when loading rubber bands into the models.
By building (either partially or completely) any BrickGun model (regular or Rubber Band) you release BrickGun and all of its employees from liability for any injury or damages done to persons or property due to its use or misuse.

LEGOŽ is a trademark of the LEGO Group of companies which does not sponsor, authorize or endorse this site