The 22 series pistols are a locked breech, short recoil 9mm semi-automatic pistol with a standard magazine capacity of 17 rounds using a modified Peter/Browning barrel locking system. The weapon has a well-known reputation for being extremely rugged and reliable.
Unlike other pistols, the 22 uses a "safe action" semi-double action trigger system along with a striker instead of a hammer and firing pin. It operates similarly to a conventional revolver in that there is no manual safety.

Since our very first model, the BrickGun designers have repeatedly attempted to integrate a life-sized magazine while maintaining strength and retaining the realistic mechanics of a trigger, hammer, slide and slide lock. For years this proved frustrating and seemingly impossible.
The bulkiness of platic building bricks simply didn't leave enough room inside for our mechanisms and a magazine. If we got the mag integrated we had to lose the functioning trigger/hammer. If we kept the mechanics we had to size down the mag until it wasn't 1:1 scale and looked horribly unrealistic. If we kept the mag life-sized then there wasn't enough room for the pieces necessary to maintain grip strength, causing it to crumble in our hands with little pressure. Managing to balance all three important aspects of the intended design was something we had all but given up on.

Finally, all that has changed.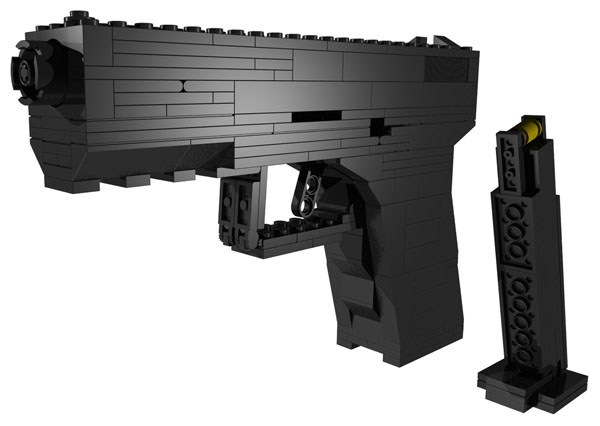 The BrickGun BG22 with Magazine started out as a compromise. We decided that if we couldn't integrate all three aspects important to the design we would release a model that gave customers the option to either have a realistic, removable mag or a working trigger/hammer mechanism. We weren't thrilled with being "beaten" in our attempts, but following years of trying it seemed to be the only option. Oddly enough, once the initial design for a removable mag was complete we realized that a significant redesign of our standard trigger and (internal) hammer mechanism might just yield enough space to allow for both of them simultaneously.
Three redesigns later and we had the pistol model we had desired for years. One which incorporates all of our standard pistol mechanics (trigger, (internal) hammer, slide and slide lock) yet also allows a life-sized magazine to be inserted and removed from the grip. And most importantly, the grip remained strong even when the mag was out. We had finally accomplished what we had sought since the very beginning.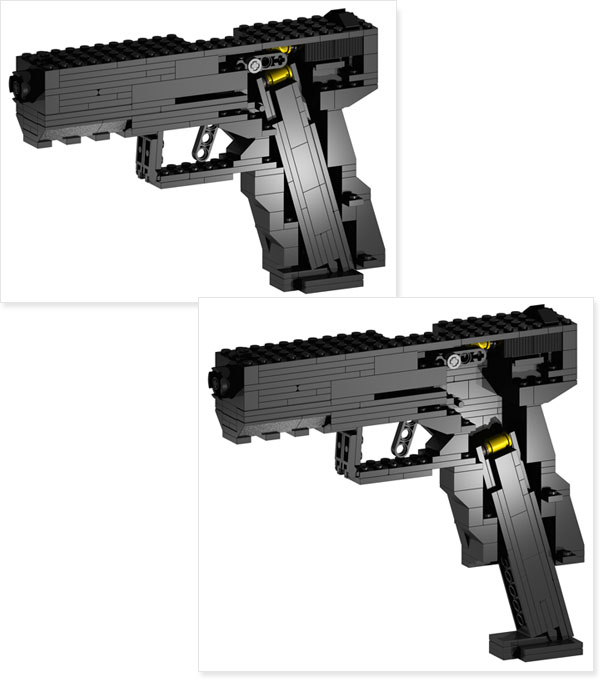 The BrickGun BG22 with Magazine is our ultimate pistol model. It includes a working trigger, pull it when the gun is cocked and the internal hammer slams forward with an audible "click". Pull back the slide and the internal hammer is cocked, ready to "fire" again. The slide can be locked open by flipping up the slide lock lever on the side. You can see down into the open breech through the ejector port and even have the option to build a round sitting in the chamber, ready to be "fired". Flip down the lever and the slide bursts forward, leaving the model ready to fire again. It incorporates a mock Picatinny rail, so you can add-on laser sights, field lights and other options from our Freebies section.
But the most important feature of this particular kit is easily the magazine. A life-sized mag that even incorporates a round sitting at the top and slides up into the grip exactly like a real weapon. When the mag is in and the slide is back you can see the round through the breech, ready to be chambered. The mag slides out with a simple tug, adding yet another feature to our long line of incredible models that are world-renowned for being the finest, most realistic plastic building brick weapons made.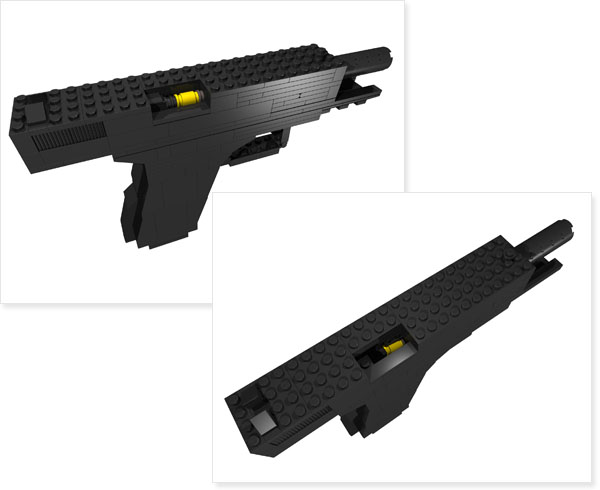 BrickGun kits include everything you need to build your own model. We supply all the pieces necessary, along with a link to download easy-to-follow instructions which walk you through every step of the build process. The models are simple, yet intricately detailed and can typically be put together in under an hour. All mechanics are actuated by rubber bands supplied with the kit.
BrickGun also offers .pdf versions of our instruction pages. If you already have the pieces necessary to build the model you can purchase a download of the instructions and view them digitally or print them using Adobe's free Acrobat Reader.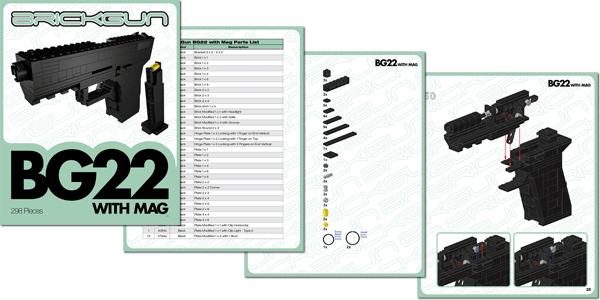 Thousands of BrickGun models have been sold around the world for over a decade with 100% satisfaction. All transactions are handled securely via paypal and units typically arrive within 2 weeks of purchase.
We deliver a quality product that we love to make and sell. That's what makes them the coolest plastic building brick weapons in the world!
If you have any questions, please email The BrickGun Team.
ATTENTION: BrickGun models DO NOT FIRE PROJECTILES and are not actual working weapons, they are plastic building brick models meant only to display the form and mechanical functions of real guns.
BrickGun Rubber Band kits DO FIRE RUBBER BANDS and caution must be exercised at all times while building, viewing and playing with the model. Never point BrickGun Rubber Band models at yourself, other people or pets. Extra care should be exercised when loading rubber bands into the models.
By building (either partially or completely) any BrickGun model (regular or Rubber Band) you release BrickGun and all of its employees from liability for any injury or damages done to persons or property due to its use or misuse.

LEGOŽ is a trademark of the LEGO Group of companies which does not sponsor, authorize or endorse this site