The MAC-10 (or M10 as it is more accurately known) was first manufactured in 1964. It is a simple, low-cost design with few moving parts, making it easy to manufacture and maintain. Original MAC-10s were in 9mm and .45 caliber models, followed by the MAC-11 (M11) in the 1970's which sported a .380 round.
These small sub-machine guns were known for their compactness and high rates of fire. These were impressive stats on paper, but they actually worked against the weapons, as it made them hard to aim and control. While there were never successful with the American military due to these shortcomings, they have found a special place in the hands and hearts of private owners and it has often been said "The MAC-10 was designed so that a housewife could practically use it!".

The BrickGun MAC-11 (Rubber Band) is a slight departure from our other models in that it gives up a bit of realism for the ability to load and shoot up to 5 rubber bands semi-automatically. Incorporating a ingenious escapement design which allows us to control the rate of fire, just pull the trigger and a rubber band snaps away, the next is then readied for the next shot. The magazine can be removed and inside you can see 2 .380 rounds.
Like all the BrickGun models, the BrickGun MAC-11 is 1:1 scale, fitting in your hand just like an actual MAC-11. It incorporates many of the design details of a real weapon so that it looks and feels as authentic as we believe you can get with plastic building bricks.

BrickGun kits include everything you need to build your own model. We supply all the pieces necessary, along with a link to download easy-to-follow instructions which walk you through every step of the build process. The models are simple, yet intricately detailed and can typically be put together in under an hour. All mechanics are actuated by rubber bands supplied with the kit.
BrickGun also offers .pdf versions of our instruction pages. If you already have the pieces necessary to build the model you can purchase a download of the instructions and view them digitally or print them using Adobe's free Acrobat Reader.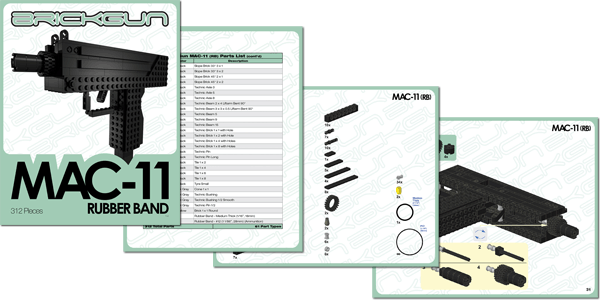 Thousands of BrickGun models have been sold around the world for over a decade with 100% satisfaction. All transactions are handled securely via paypal and units typically arrive within 2 weeks of purchase.
We deliver a quality product that we love to make and sell. That's what makes them the coolest plastic building brick weapons in the world!
If you have any questions, please email The BrickGun Team.
ATTENTION: BrickGun models DO NOT FIRE PROJECTILES and are not actual working weapons, they are plastic building brick models meant only to display the form and mechanical functions of real guns.
BrickGun Rubber Band kits DO FIRE RUBBER BANDS and caution must be exercised at all times while building, viewing and playing with the model. Never point BrickGun Rubber Band models at yourself, other people or pets. Extra care should be exercised when loading rubber bands into the models.
By building (either partially or completely) any BrickGun model (regular or Rubber Band) you release BrickGun and all of its employees from liability for any injury or damages done to persons or property due to its use or misuse.

LEGOŽ is a trademark of the LEGO Group of companies which does not sponsor, authorize or endorse this site