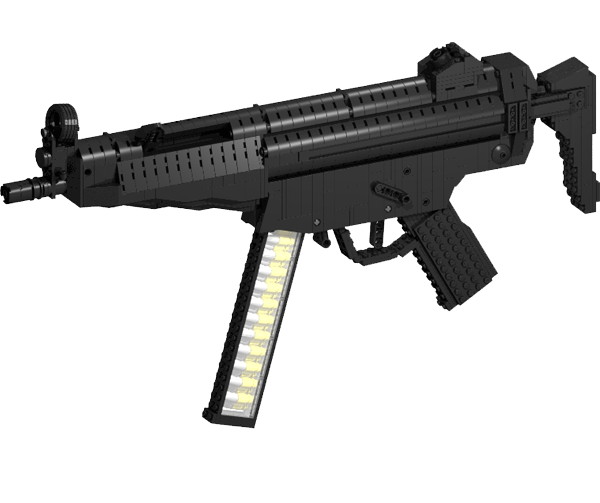 The Trigger can be pulled and moves just like a real MP5.
The Cocking Arm can be pulled back and it snaps forward, just like a real MP5.
The 3-way switch can be set to fire/3-round burst/safe. When set to "safe", the Trigger cannot be pulled.
Press the Stock Lock lever and the Stock is unlocked, allowing it to slide back.
The Stock locks in the extended position. The Stock Lock can then be used to allow it to collapse back into place.
Press the Magazine Release lever and the Magazine can be removed.
The 28-round Magazine can be removed and locks into place when inserted.

v4.3
972 Pieces
The BrickGun MP5 continues our tradition of building the most realistic plastic building brick weapons possible. Our original MP5 has been updated with new features and added accuracy. The model now matches a real MP5 exactly in size and detail, both with the stock extended and collapsed.
We've added a functioning cocking handle, safety and improved the stock design for both accuracy and strength. The entire model has been reworked from the core to improve the look and to increase sturdiness so that it can stand up better to actual play. We listened to your feedback and added everything you asked for. We wanted our final version of the model to be the ultimate plastic building brick MP5 and we believe we've succeeded!
Model Features
(Hover or Click to View)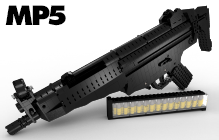 972 Pieces
v4.3
Functioning:
∙ Trigger, Cocking Arm, Safety, Extendable Stock, Stock Lock Lever, Magazine Release Lever, Removable Magazine
Includes BrickGun Complete Disc digital instruction download with instructions and graphics
for every BrickGun gun model and accessories
Kit Information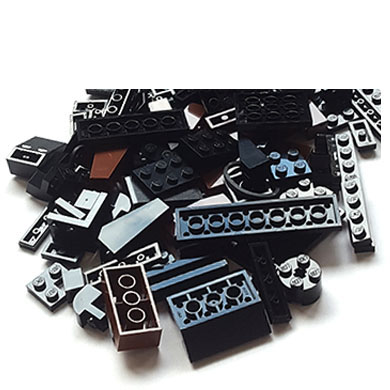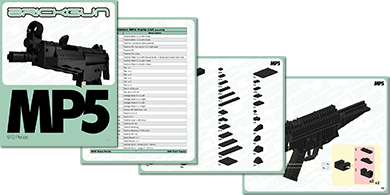 BrickGun kits include everything you need to build your own model. We supply all the necessary pieces (100% genuine LEGO® bricks), rubber bands for mechanical function, and a link to download easy-to-follow instructions (.PDF format) which walk you through every step of the build process.
The models are life-sized (1:1 scale), simple, yet intricately detailed, and can typically be put together in under an hour by an experienced builder.
BrickGun also offers .PDF versions of our instruction pages sold separately. If you already have the pieces necessary to build our models you can purchase a download of the instructions and view them digitally or print them using
Adobe's free Acrobat Reader
.
Thousands of BrickGun models have been sold around the world since 2001 with 100% satisfaction. All transactions are handled securely via paypal and units typically arrive within 2 weeks of purchase.
We deliver a quality product that we love to make and sell. That's what makes them the coolest LEGO® brick weapons in the world!
If you have any questions, please
email The BrickGun Team
.