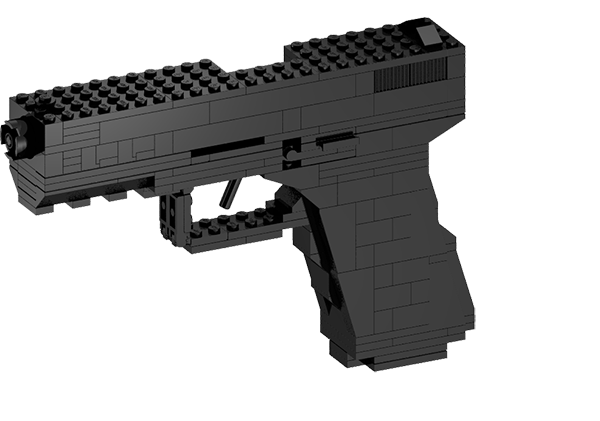 To "fire" the BG22, pull the trigger when the gun is cocked and the Hammer slams forward with a "click".
The internal Hammer of the BG22 is "cocked" when the Slide is pulled back. When the Trigger is pulled, the Hammer slams down with an audible "click!".
Pull back the Slide to open the breech. Release it and the Hammer is "cocked". The BG22 is ready to "fire".
When the Slide is back, flip up the Slide Lock to hold it open. Flip the Slide Lock down and the breech slams shut.
The BG22 has a removable Magazine. It is life-sized and includes a round at the top which is visible through the breech when inserted.

v3.0
293 Pieces
Since our very first model, the BrickGun designers have repeatedly attempted to integrate a life-sized magazine while maintaining strength and retaining the realistic mechanics of a trigger, hammer, slide and slide lock. For years this proved frustrating and seemingly impossible. The bulkiness of platic building bricks simply didn't leave enough room inside for our mechanisms and a magazine. If we got the mag integrated we had to lose the functioning trigger/hammer. If we kept the mechanics we had to size down the mag until it wasn't 1:1 scale and looked horribly unrealistic. If we kept the mag life-sized then there wasn't enough room for the pieces necessary to maintain grip strength, causing it to crumble in our hands with little pressure. Managing to balance all three important aspects of the intended design was something we had all but given up on.

Finally, all that has changed.

Model Features
(Hover or Click to View)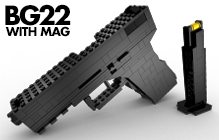 293 Pieces
v3.0
Functioning:
∙ Hammer, Trigger, Slide, Slide Lock, Removable Magazine
Includes digital instruction downloads
Kit Information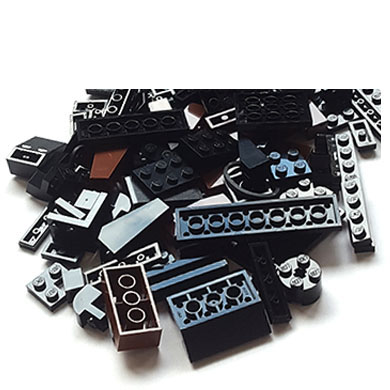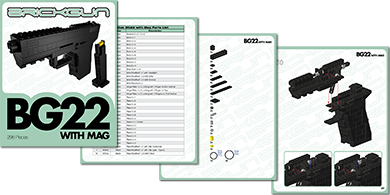 BrickGun kits include everything you need to build your own model. We supply all the necessary pieces (100% genuine LEGO® bricks), rubber bands for mechanical function, and a link to download easy-to-follow instructions (.PDF format) which walk you through every step of the build process.
The models are life-sized (1:1 scale), simple, yet intricately detailed, and can typically be put together in under an hour by an experienced builder.
BrickGun also offers .PDF versions of our instruction pages sold separately. If you already have the pieces necessary to build our models you can purchase a download of the instructions and view them digitally or print them using
Adobe's free Acrobat Reader
.
Thousands of BrickGun models have been sold around the world since 2001 with 100% satisfaction. All transactions are handled securely via paypal and units typically arrive within 2 weeks of purchase.
We deliver a quality product that we love to make and sell. That's what makes them the coolest LEGO® brick weapons in the world!
If you have any questions, please
email The BrickGun Team
.