Welcome to BrickGun, designers and builders of the world's best weapon models made from 100% genuine LEGO® bricks.

We specialize in creating the coolest, most realistic models that can be built using 100% genuine LEGO® parts. Each kit is life-sized, with accurate dimensions and details. They feature functioning mechanics such as triggers, hammers, slides, safeties and magazines so they not only look like the real thing, they work like the real thing as well.

Take a look at our models and see why we believe they are the best that can be made...
Once you do, we think you'll agree that they are
The Coolest LEGO® Brick Weapons in the World.
Latest News
2022.10.18
New Look For The BrickGun Website!
BrickGun now has a fresh, new, updated look... but all of our same models and instructions are still available. We've added some new Free Stuff, as well as additional information regarding construction and use of our kits. So enjoy!
2022.10.18
Increase of Shipping, Kit and Instruction Pricing
Our prices have remained the same for over 10 years now, but due to incremental increases in the price of LEGO® bricks and PayPal fees over the years we are forced to increase our prices across the board to maintain a profit margin. We held out as long as we could, but unfortunately the time has come for an update.
We also have been forced to raise our shipping & handling rates. Again, our S&H prices had remained steady since our last increase over 4 years ago. Due to USPS and PayPal rate increases during the interim years we have actually been losing money on certain shipments for a while now, so the time has come for these rates to be updated accordingly.
We apologize that these increases are necessary, but as the expense of everything inflates, we must contend with it.
2018.10.31
Warhammer Storm Bolter Designs!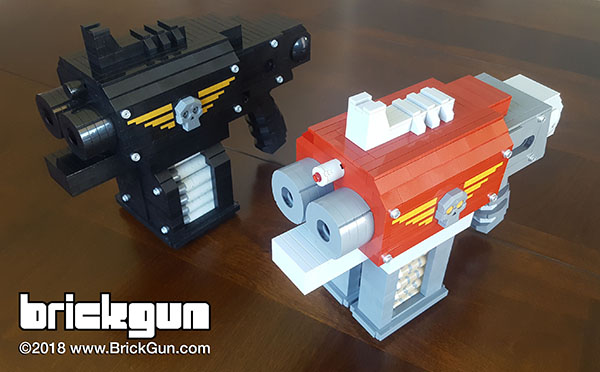 We at BrickGun have been huge fans of
Warhammer tabletop gaming
for years and decided to pay homage by building a couple of (human scale)
40K Storm Bolter weapons
.
A full collection of images can be found on
BrickGun's Imgur page
.
Our Storm Bolter features a "working" trigger and dual magazines which can be removed via a release lever, then reinserted where they lock back into place. We've even created a huge double magazine that inserts into both mag slots at once and can be removed the same way. The side art is easily removed and swapped out via the modular design. We plan to release the instructions for the double mag as well.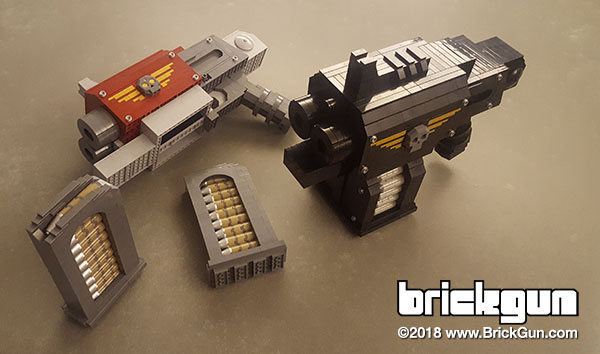 We won't be selling the kits since we don't have the rights to do so, but we have created an instruction set for the model as well as the single 10-round magazine that can be
downloaded here
for anyone who would like to build their own. But, be warned, it's massive (1431 pieces!).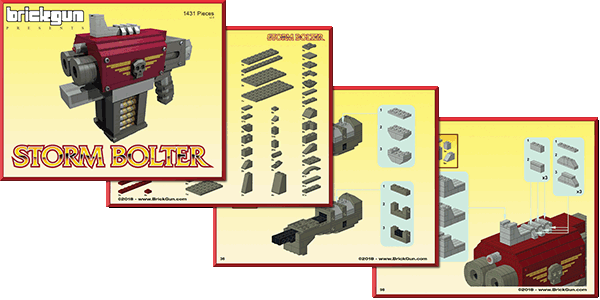 2016.08.01
FREE Ninjato Instruction Download!
In between design sessions for our next gun model, we put together a "Ninjato" (or "Ninja-To") ninja sword (we know, odds are they are entirely fictional and only exist thanks to Hollywood, but they are still cool).
Like all of our models, the BrickGun Ninjato is life-sized (over 33 inches long! (84cm)). It is surprisingly sturdy and fun to play with.
The instructions are a good example of the quality of the ones we sell and provide with kit purchases. A complete text and visual parts list is included (Quantity, Color, Part # and Description), along with simple, easy-to-follow steps for building.
They will be available for free only for a limited time until we compile the inventory to start selling kits, so grab yours now by
clicking here
!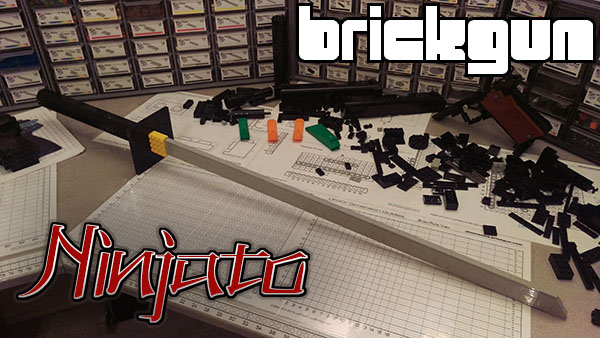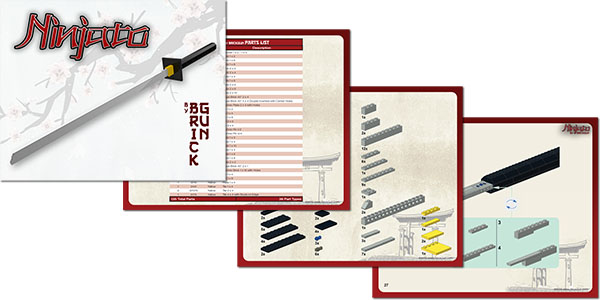 Kit Information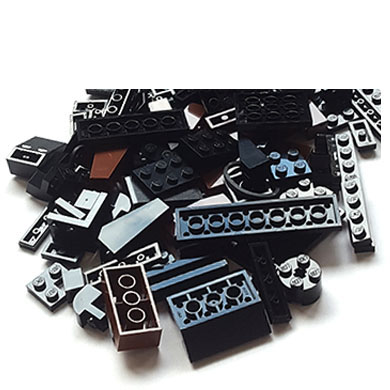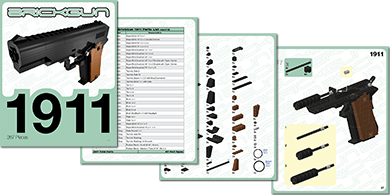 BrickGun kits include everything you need to build your own model. We supply all the necessary pieces (100% genuine LEGO® bricks), rubber bands for mechanical function, and a link to download easy-to-follow instructions (.PDF format) which walk you through every step of the build process.
The models are life-sized (1:1 scale), simple, yet intricately detailed, and can typically be put together in under an hour by an experienced builder.
BrickGun also offers .PDF versions of our instruction pages sold separately. If you already have the pieces necessary to build our models you can purchase a download of just the instructions and view them digitally or print them using
Adobe's free Acrobat Reader
.
Thousands of BrickGun models have been sold around the world since 2001 with 100% satisfaction. All transactions are handled securely via PayPal and units typically arrive within 2 weeks of purchase.
We deliver a quality product that we love to make and sell. That's what makes them the coolest LEGO® brick weapons in the world!
If you have any questions, please
email The BrickGun Team
.