Welcome to BrickGun, designers and builders of the world's best weapon models made from LEGO® bricks.
We specialize in creating the coolest, most realistic kits that can be built using 100% genuine LEGO® parts. Each model is life-sized, with accurate dimensions and details. They feature functioning mechanics such as triggers, hammers, slides, safeties and magazines so they not only look like the real thing, they work like the real thing as well.
Take a look at our models and see why we believe they are the best that can be made. Once you do, we think you'll agree that they are The Coolest LEGO® Brick Weapons in the World.
03.03.2019




BrickGun 1911 Redesign


We have redesigned our classic 1911 model to now be even more realistic. Using newer curved slope pieces we have reshaped the slide to have the look we always wanted. Curved and free of all studs along the top. Check out the new design and grab a kit now!




11.01.2018




Warhammer Storm Bolter Designs!


We at BrickGun have been huge fans of Warhammer tabletop gaming for years and decided to pay homage by building a couple of 40K Storm Bolter weapons.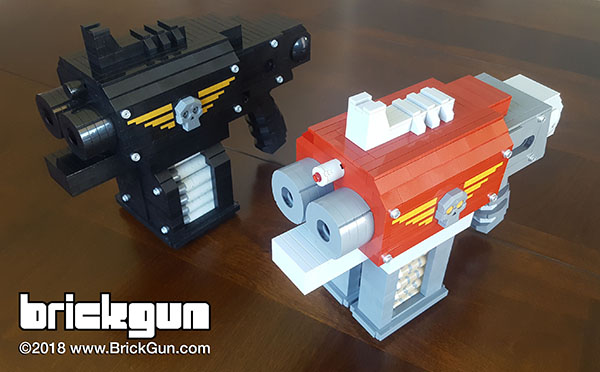 A full collection of images can be found on BrickGun's Imgur page.
Our Storm Bolter features a "working" trigger and dual magazines which can be removed via a release lever, then reinserted where they lock back into place. We've even created a huge double magazine that inserts into both mag slots at once and can be removed the same way. The side art is easily removed and swapped out via the modular design and we plan to release additional art inserts very soon. We also plan to release the instructions for the double mag as well.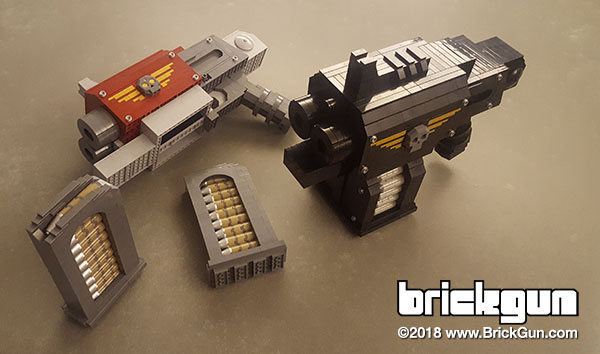 We won't be selling the kits since we don't have the rights to do so, but we have created an instruction set for the model as well as the single 10-round magazine that can be downloaded here for anyone who would like to build their own. But, be warned, it's massive (1431 pieces!).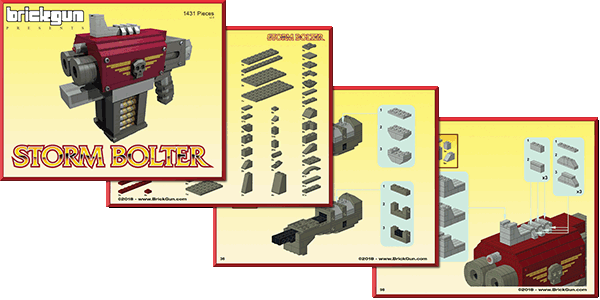 01.24.2018




International Shipping Price Increase


Unfortunately we've had to raise our international shipping rates. This is due to increases on international shipping for first class packages by the United States Postal Service. We hate that our international shipping rates have to be so high, but we've looked at all of the least-expensive options and shipping just a single kit costs us almost $23. Adding PayPal fees and our packaging costs, we've had to bring international shipping prices up so that we're not losing money on each package we send. We apologize for this increase, but it's beyond our control.



08.02.2016




FREE Ninjato Instruction Download!


In between design sessions for our next gun model, we put together a "Ninjato" (or "Ninja-To") ninja sword (we know, odds are they are entirely fictional and only exist thanks to Hollywood, but they are still cool).
Like all of our models, the BrickGun Ninjato is life-sized (over 33 inches long! (84cm)). It is surprisingly sturdy and fun to play with.
The instructions are a good example of the quality of the ones we sell and provide with kit purchases. A complete text and visual parts list is included (Quantity, Color, Part # and Description), along with simple, easy-to-follow steps for building.
They will be available for free only for a limited time until we compile the inventory to start selling kits, so grab yours now by clicking here!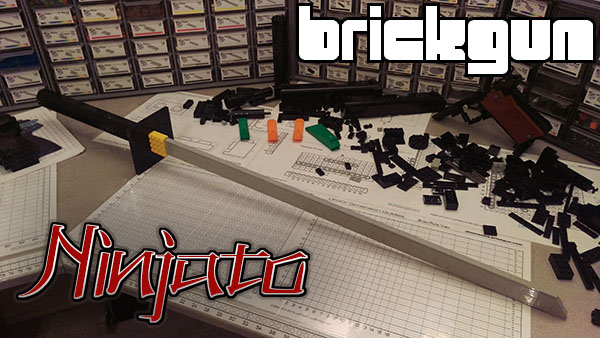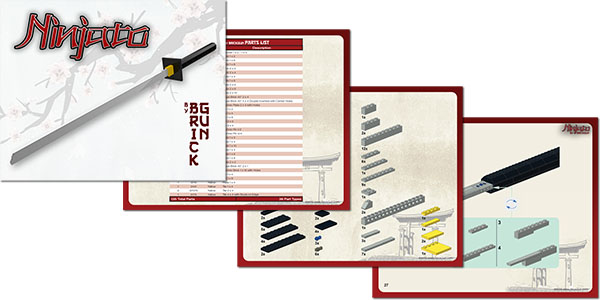 08.01.2015




The BrickGun PPK is now available!


The model which is far and away the most requested of us is the iconic PPK. Somewhat better known as the "Bond" gun. Well, we finally have our version of this classic completed. It features a working trigger and hammer, as well as a removable magazine. It's 100% life-sized and is our first "3-stud-wide" model. This means it's incredibly compact, just like the real thing.
Instructions and kits are available for sale on our Purchases page and more details can be found on The BrickGun PPK Page.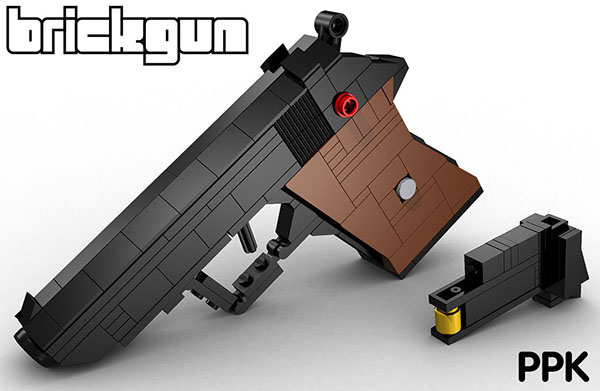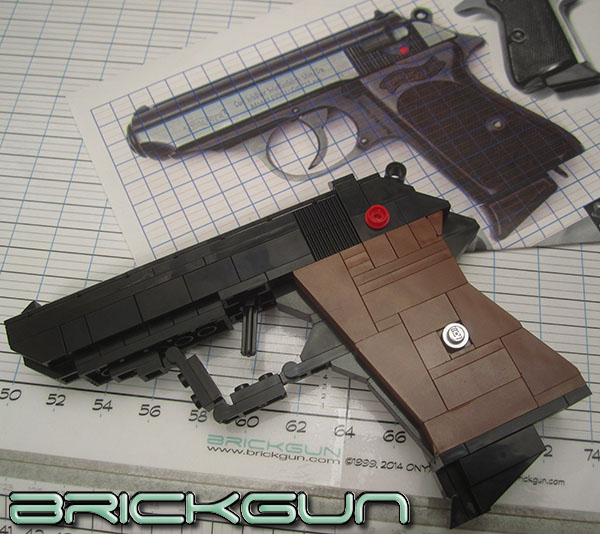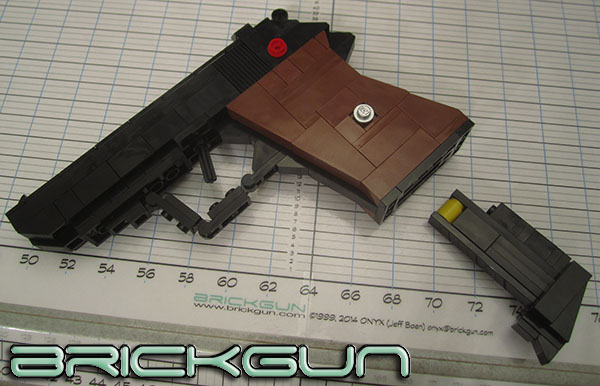 We also have a quick video of the Trigger/Hammer and Magazine in action posted to our Instagram account:




01.25.2015




The BrickGun 8-bit Controller is now on sale!


The latest in our line of non-gun models has just been released. Based on the iconic Nintendo Entertainment System® (NES) gamepad controller from the 80's.
Just like all BrickGun designs, our 8-bit Controller model is life-sized and contains as many details as are possible with LEGO® bricks.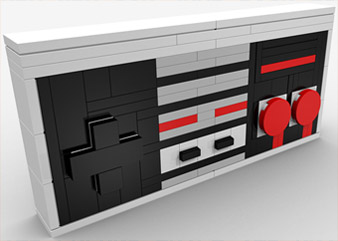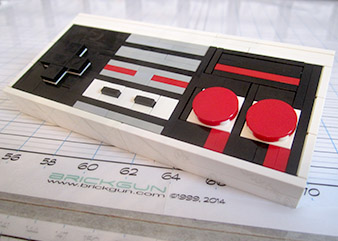 While none of the items function mechanically, the BrickGun 8-bit Controller features a raised and slightly outlined D-Pad, raised Select/Start buttons and raised A/B buttons. The "Select"/"Start" text, A/B button text and "Nintendo" logo are all represented. The black, white, gray and red color scheme of the console gamepad that we all know and love is recreated in fantastic detail. All sides and the back are smooth and flush. We believe, like all BrickGun models, that this is the best possible version of the classic gamepad that is possible with LEGO® bricks.
Kits and instruction downloads are available for sale now, so check out the BrickGun 8-bit Controller page for details.



09.06.2014




Lots of new builder information and assistance on the site


We've just launched new sections of our website with Helpful Building Tips, a Guide to Following our Instructions, a page providing downloadable/printable labels that we use to store and organize the parts in our design studio and a page providing extensive LEGO® Dimension Grids, Technic® connection points and Brick dimensions.
All of this new information is geared toward making your building experience more enjoyable as well as assisting original designers and builders via some of the tools our designers rely on in the BrickGun Studio. Enjoy!



07.18.2014




The BrickGun Python .357 Revolver is now on sale!


For years our fans have requested we build a revolver and now we have. We wanted to incorporate a spinning cylinder that could also swing out, as well as a hammer that can be cocked and "fired" when the trigger is pulled... and WE DID IT! The model, like all of our models, is 1:1 scale, exactly life-sized with as many details as we could pack in. It's one of our largest models, providing the old school "hand cannon" look and feel that a magnum revolver provides. So check out the BrickGun Python .357 now!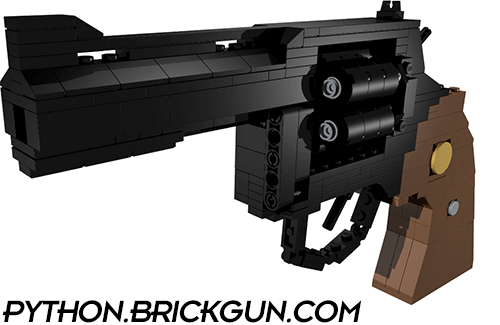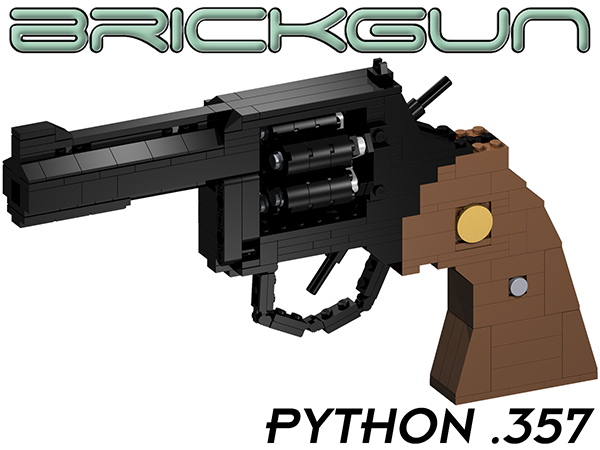 05.18.2014




1977 Joystick Model Now on Sale


Now, for something COMPLETELY different... The BrickGun designers have just released The 1977 Joystick, a model based on the iconic joystick of the Atari™ 2600™ video game system from the 1970s.
The model, like all BrickGun models, is exactly life-sized at 1:1 scale and features a "functional" joystick that moves in all directions and self-centers. Don't worry, new gun designs are also on the way, but this departure is the first in a series of "geek" models/toys appealing to gamers, techies and anyone who enjoys the same nerdy things that our designers do.
Just like our gun models, kits are available that include everything necessary: 237 Genuine LEGO™ pieces, rubber bands and a digital download of easy-to-follow color instructions guiding you through each step of the build.
More details can be found on The 1977 Joystick page.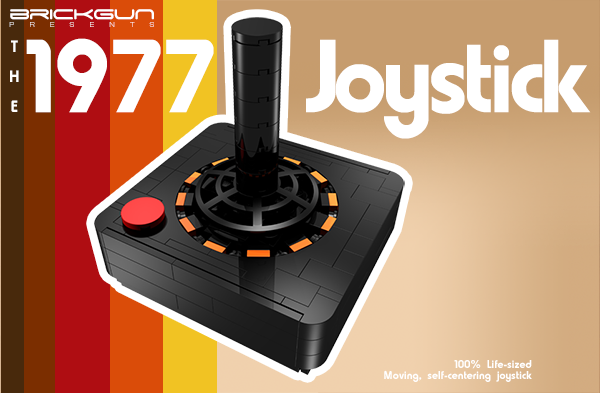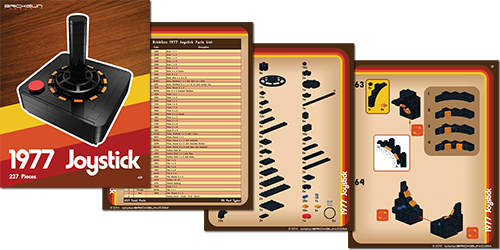 07.11.2009




BrickGun to Discontinue Printed Instruction Shipping


Starting on July 11th, 2009, BrickGun will no longer ship printed instructions with our model kits.
This decision was made in an effort to reduce the amount of paper we consume and print (thereby reducing the number of trees destroyed and energy used), to reduce the shipping weight of our packages (thereby reducing the amount of fuel used by our shipping carriers) and to improve our overall "green" status.
Moving forward, we will be providing download links to our instruction .PDF files which can be printed or viewed locally by the buyer on his/her PC or Mac after purchase. These files can be easily opened/viewed/printed using Adobe's free Acrobat Reader software. The instruction downloads are the same documents that we have been selling for years and are identical to the pages we used to ship with our kits, but this way there is less energy used and less waste created in the world.